Breeding Ancestry
Krayaan Dilmun
Sire: Ma'anagy Nadeem
Dam: Kray Manifa
Krayaan Dilmun standing at Pearl island Arabians UK was bred by the Bahraini Royal Family having a pure desert arabian ancestry going back centuries. Now owned by Jenny Lees whos focus is upon breeding Arabians of exceptional quality with temperament, soundness, combined with sporting abilities. The result has been that Krayaan himself was declared by WAHO (World Arabian Horse Organisation) as 2010 leading endurance sire UK having bred many winners of endurance races.
More information on this exceptional bloodline can be found at Pearl Island Arabians (www.pearlislandarabians.co.uk)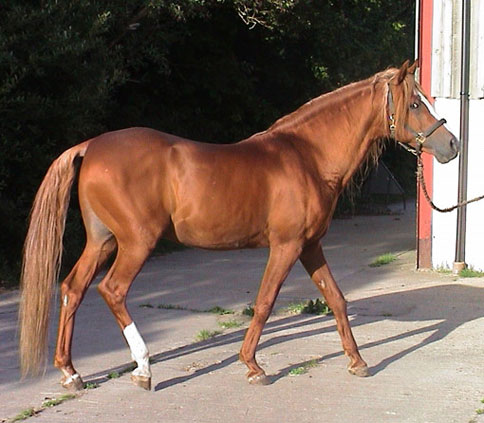 Franzara
Sire: Bonanza
Dam: Treeyews Farona
Can be viewed at Warrens Hill Arabians, a light bay mare bred from the successful endurance horse Bonanza. An offer of two hundred thousand pounds (four hundred thousand dollars) was refused for this very successful endurance mare after winning the World Arabian Horse Organisation (WAHO) award for the best, most successful endurance horse of the year 2006 GB winning and being placed in numerous races up to one hundred miles.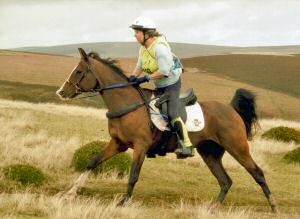 Coblynau Cwmbran
Sire: Derwen Reality
Dam: Penlon Iris
The majestic looking black Welsh Cob whose extravagent paces, arched neck and flared nostrils makes him at times to resemble the mythical Welsh Dragon, yet is so easy to manage and work with, has proved very successful in the show ring, with success in the Welsh Pony and Cob shows Ontario 1999. We have found his offspring to have excellent conformation and wonderful, kind temperament.
Ffald Black Knight
Sire: Derwen Denmark
Dam: Fflad Myfanwy
Prior to bringing our Welsh Cob mare Trefrifawr Duchess to Canada from Wales GB in 2006, we bred her to this exceptional, beautiful black Welsh Cob stallion of Ffald Farm, South Wales. Although he is a mulitple show and medal winner and sire of prize winners, it was his manageable and good natured temperament that was most appealing to us, reflecting the type of horse we wish to produce. The resulting foal Starlight, now six years old has lived up to all our expectations and can be seen running with our stallion on our home page.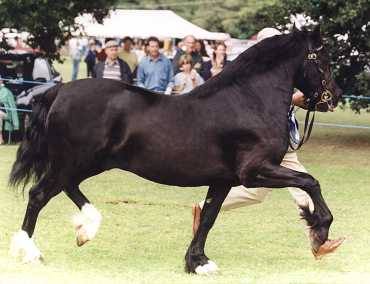 Mitcheltroy Seldom Seen
Sire: Gwenfo Apollo
Dam: Mitcheltroy Black Pearl
A beautiful black Welsh Cob and as with his sire was successful in the show ring under harness, driven, with two and four wheelers.
Gwenfo Apollo was placed 1st, 2nd and 3rd between 1988 and 1997 at The Royal Welsh Show in midwales GB.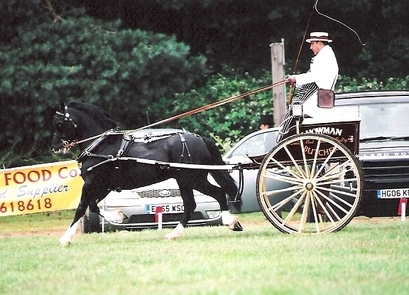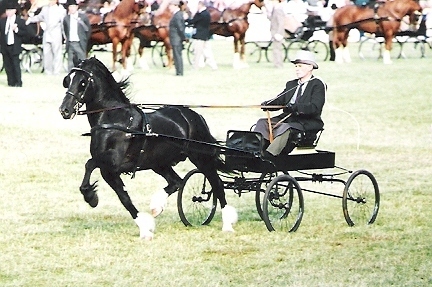 Mitcheltroy Seldom Seen Gwenfo Apollo